Here is a glimpse at all of our current products we are selling. Contact us If you would like to make an order to have shipped.
85 Proof / 750 ml & 375 ml
Some may say this is not your grandmother's apple pie… well it is our grandfather's recipe that he handed down to us. We changed it up a little by making it with our own apple brandy, blended with Washington apple cider, Washington honey and brown sugar. We spice it up with cinnamon, cloves and pie spices, and a cinnamon stick added to each bottle.
We like this heated up in hot cider on a cold day or pour a little over ice or into your hard cider on a hot day. Also makes a great secret ingredient to barbeque sau
80 Proof / 750 ml & 375 ml
This cinnamon whiskey is made with our moonsine. We love cinnamon whiskey and wanted to make something that is not too sweet and that has that real cinnamon taste. We use our corn whiskey as a base and blend it with cinnamon oil, plus a couple other secret ingredients. We then throw a cinnamon stick into each bottle for that added cinnamon flavor. Spicy and sweet with a smooth tangy finish.
This goes great on it's own. You'll want to sip it and savor it. Try it mixed with hot chocolate on a cold day, or in a hard cider, a sangria, or added to a lemon-drop martini to spice things up!
100 Proof / 750 ml
We are staying true to our moonshine-running roots with this classic take on an old American tradition. Made from 100% Washington-grown corn. We mash, ferment and distill it all here in-house at the distillery, pulling only the best parts of the run. The result is a carefully hand-crafted smooth corn whiskey that warms you up with a buttery sweet flavor.
This is very fun to experiment with. Try it in a Bloody Mary, a mojito, or an Old Fashioned, but don't stop there. The possibilities are endless!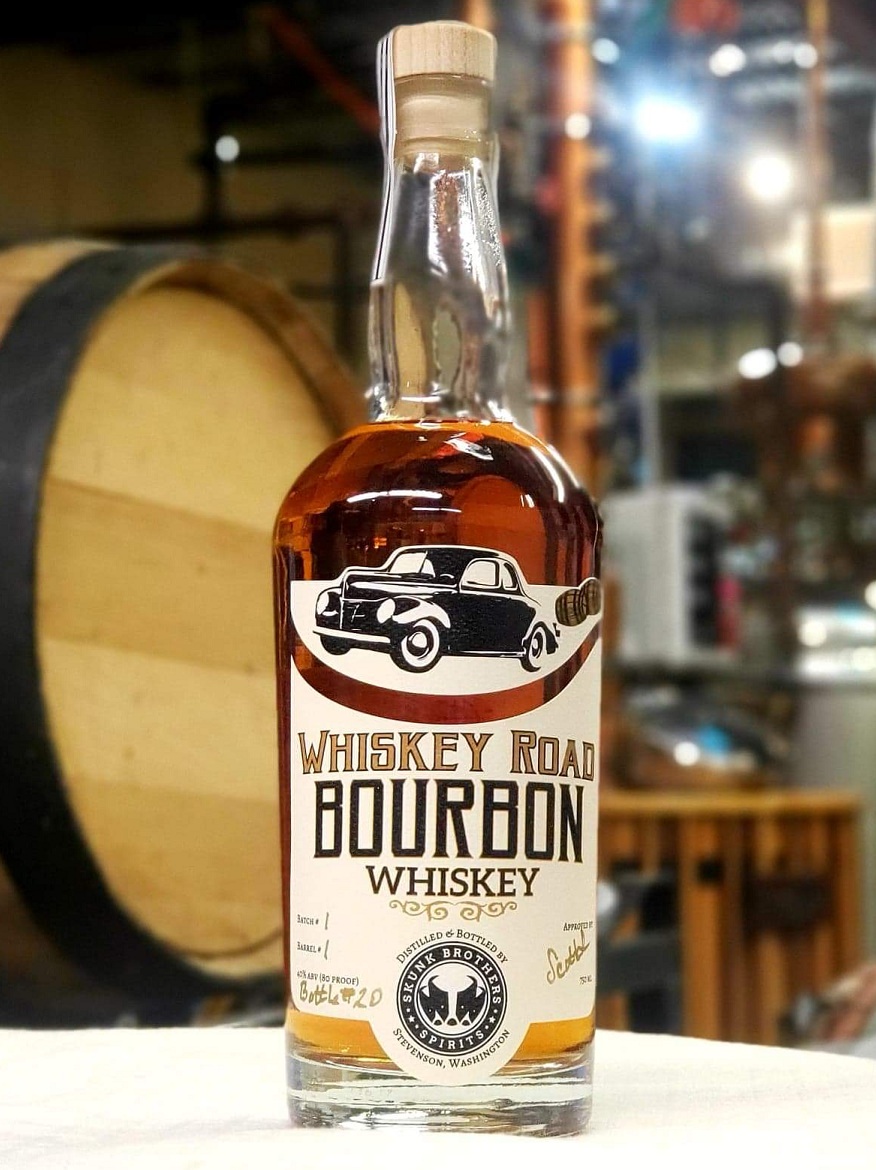 (Currently out of stock)
80 Proof / 750 ml
Introducing our first aged spirit! This whiskey was made in 2015 and set aside in brand new charred white oak casks for 3 years. We use a blend of Washington grown corn, white wheat, malted barley, and a little bit of rye and peated malt. It was distilled low and slow in our 100-gallon copper pot still. The result has been as smooth as it is flavorful, with delicious notes of caramel, vanilla, oak and maple, with a peppery finish.
You'll want to sip this neat. Or try it in an Old Fashioned or a Manhattan.
(Currently out of stock)
35 Proof | 375 ml
Our Peach Cordial is another popular seasonal liqueur made using fresh local fruit from the Columbia River Gorge. We even picked some of the peaches ourselves. It is a true labor of love… Then we pit them (also by hand), turn that into juice as well as brandy, and blend them together. Add a touch of sugar and pie spice and let those flavors mingle until we have a glass of what tastes like fresh juicy peach, plucked right off the tree.
Often sipped straight or over ice, with or after dinner. Also makes a lovely addition to iced tea or lemonade.
(currently out of season)

Not only are these Cordials Delicious but they are appeasing to everybody! This Cherry Cordial is no exception, and at 30% won't have too much of a burn to it.
Blueberry Cinnamon Cordial
(currently out of season)
This Blueberry Cordial is another new concoction we are working on. We currently have it in barrels aging a bit, but we are expecting it to be done pretty quick. Stay tuned for this one as it should be out within a few months!
Yes we said Single Malt is still aging. This one is going to take a little while, but it will be a true testament to owning a real craft distillery.